Regular price
Sale price
$18.49 USD
Unit price
per
Sale
Sold out
Description

We are proud of offering a high-protein, vegan granola that tastes as good as it is healthy. Pea protein is bonded with a variety of organic seeds by prebiotic tapioca fiber. Its subtle sweetness comes completely from organic stevia and monk fruit, keeping it sugar-free and sugar alcohol-free. We enjoy it as cereal with almond or oat milk and fresh fruit.
Claims per serving

• Calories: 100
• Protein: 10g
• Net Carbs: 1g
• Fiber: 12g
• Sugar: 0g
Ingredients

• Digestive Resistant Prebiotic Tapioca Fiber
• Natural Vanilla Pea Protein
• Organic Natural Sesame Seeds
• Organic Shineskin Pumpkin Seeds
• Organic Black Chia Seeds
• Organic Virgin Coconut Oil
• Organic Shredded Coconut
• Organic Cinnamon (Ceylon)
• Monk Fruit Extract
Allergens

Coconut | Sesame

Made in a facility that processes eggs
View full details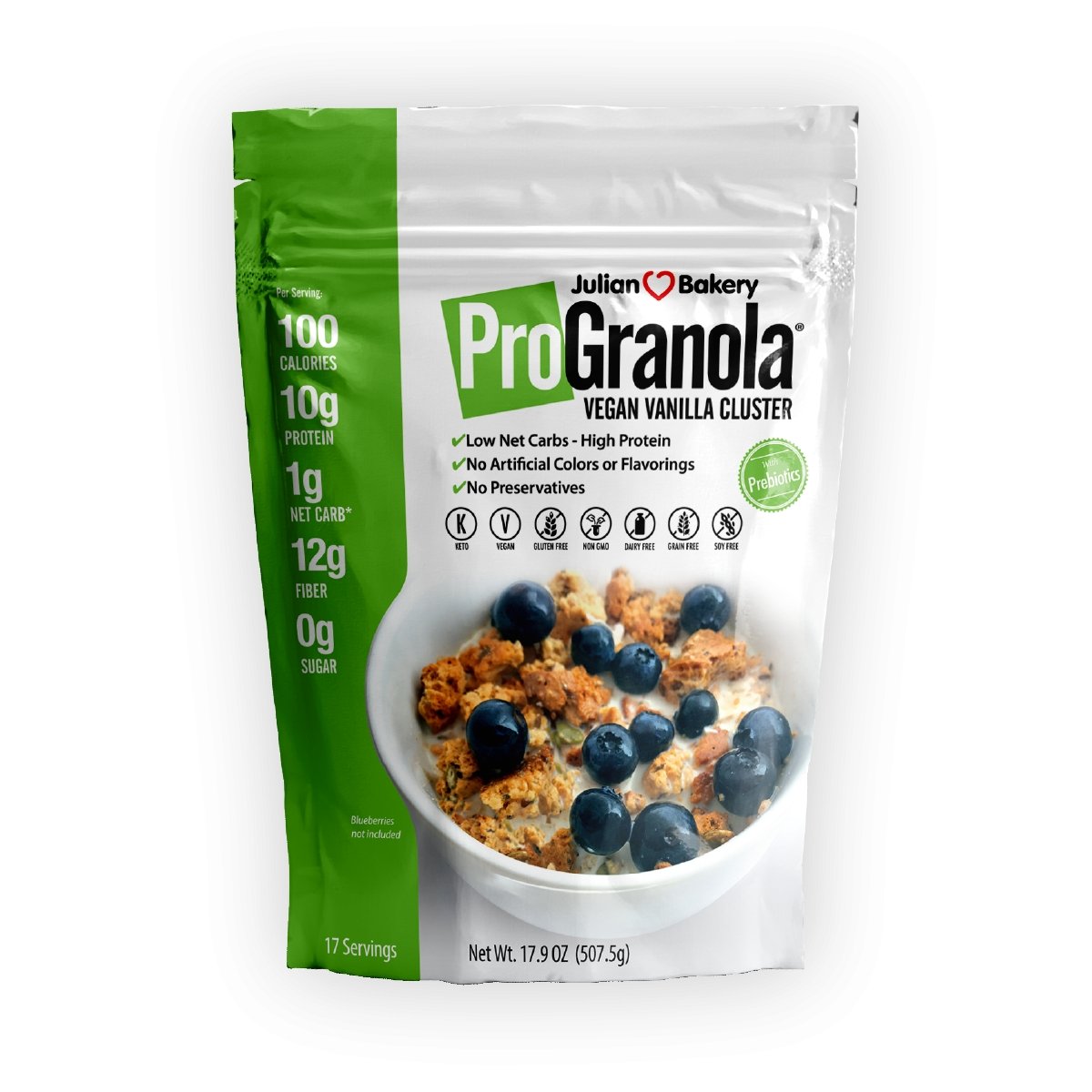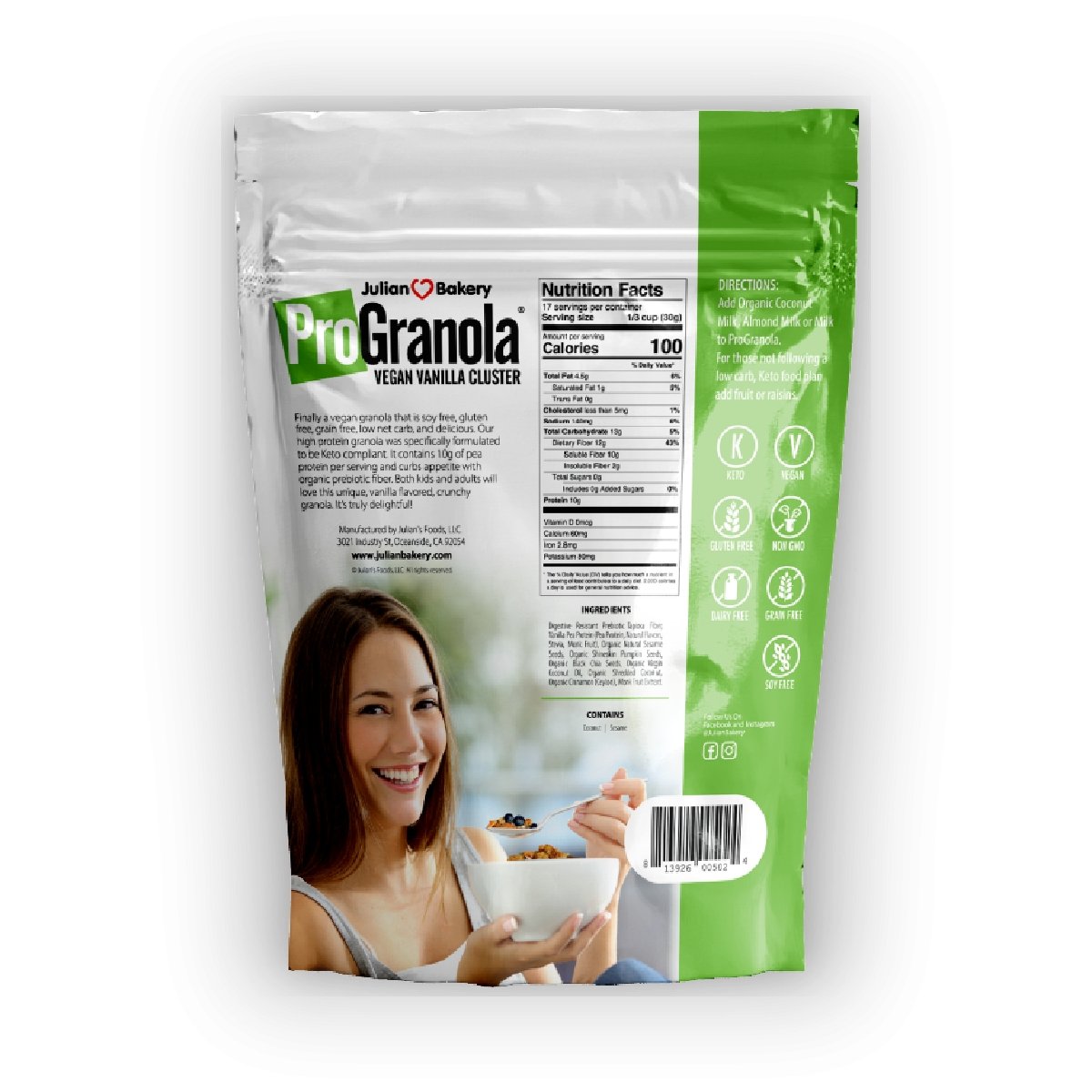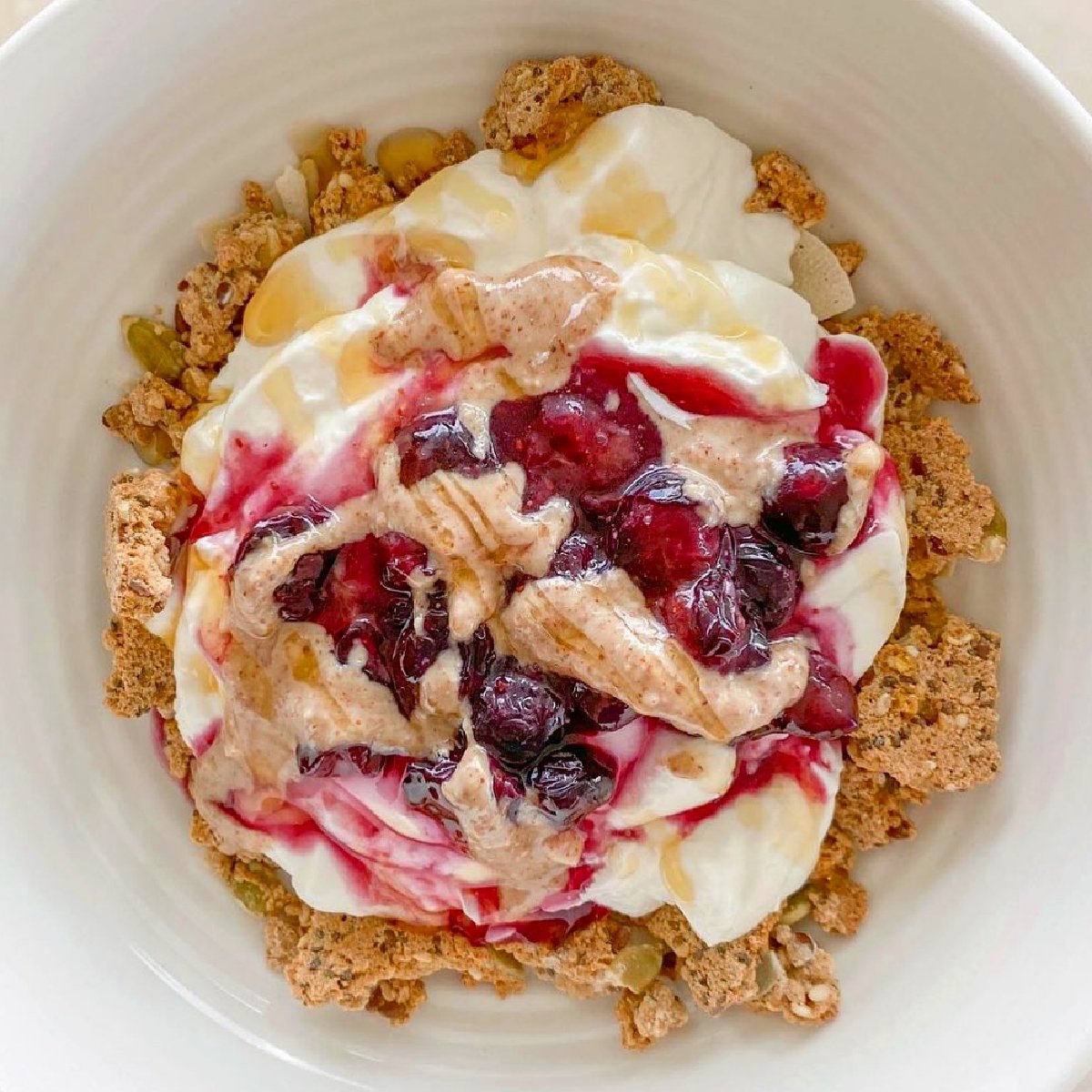 ProGranola® Vegan Vanilla Cluster
Granola
This granola is such an awesome treat!! They must have revised their recipe over the last few months because is so much better with more of a vanilla flavor!
Change in Formula
Although I was happy with the fact that I got the granola I ordered at high quality and how quickly it came, I am upset about the change in formula. The macros on the vanilla ProGranola was incomparable to any other fitness granola on the market. However now the fiber has decreased, protein decreased, calories increased all while the serving size decreased. The macros are still good and I will still be using this product but very disappointed with the change in formula.
Thank you for taking the time to share your thoughts with us. Your feedback is truly valuable, and we appreciate your honesty.
We hear your concerns about the recent changes in the formula of our vanilla ProGranola. We want to assure you that we've been working really hard to offer you the finest quality products while keeping the essence of what you love about our granola intact.
Our recent adjustments were made with a focus on improving the overall quality without compromising the delicious taste you've come to enjoy. We understand that change can be disheartening, but please know that every decision was carefully made with the intention of providing a more natural and satisfying product.
Your loyalty means the world to us, and we're committed to continuously refining our offerings to align with your expectations. If you have any more feedback or questions, we're here to listen and assist.
All things Vegan!!
Great products tailored for the vegan diet. Tasty, nutritious and good ingredients!!
Fabulous Granola and bars!
I have been a fan of the Julian protein bars for years and they are superb as always. I also ordered the Vanilla ProGranola and it is AMAZING. Great texture - crunchy - and delicious. Thank you Julian Bakery!
We are convinced that the food we eat is the foundation for health and good quality of life.